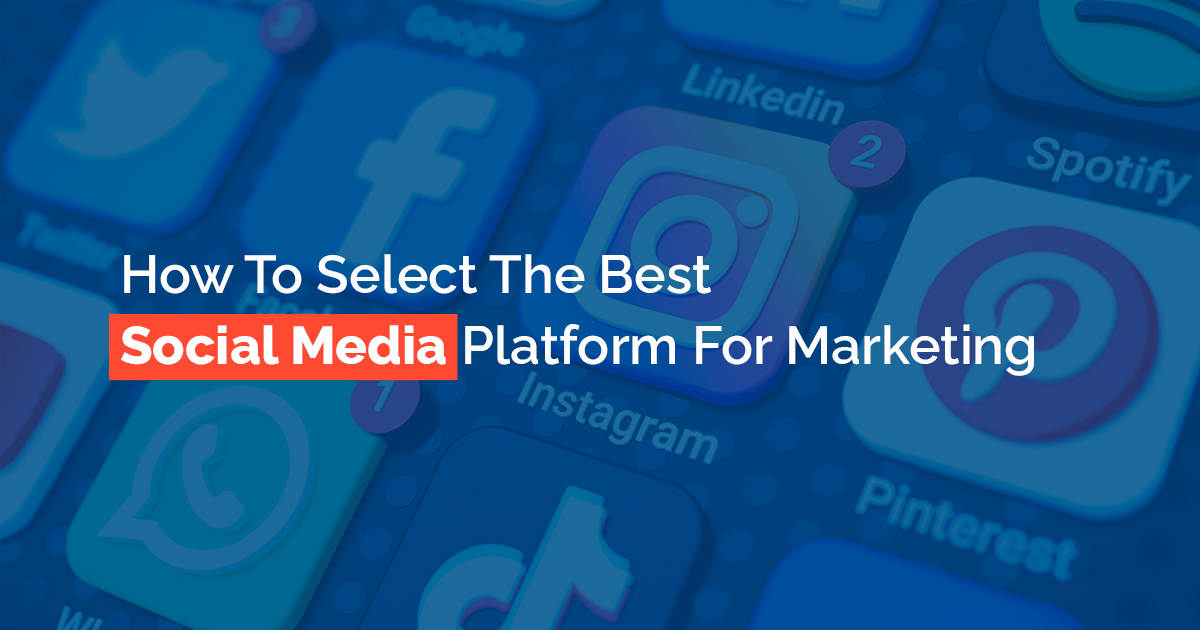 How To Select The Best Social Media Platform For Marketing
The state of social media in 2022 is pretty overwhelming, with the emergence of new platforms taking the world by storm like Tik Tok, to frequent and complicated updates to existing ones like Instagram and Facebook, and with social media platforms constantly adding new features and advertising options like Snapchat and YouTube shorts, business owners have their heads spinning. The competition for social media reach and engagement is extremely high and despite the abundance of social media platforms, opportunities are not that easy to come by. 
So how do you decide on a social media marketing strategy? Which platforms do you include in it? Where do you even begin? We're here to help you decide on the best social media platforms for your business in 2023.
Start with your target audience: 
There's no understating the importance of the target audience as a factor in determining the social media platform for business. Everything relies on where the target audience is. After all, your strategy's purpose is to reach your audience, so you need to exist where they are. 
There's no point in marketing on Facebook if most of your audience is on Instagram, no matter the size of its user base. The first step to creating a successful social media strategy is creating an audience persona that makes it clear where you'll find most of your audience. 
The type of your business: 
Consider the nature of your products or services, which type of content do they lend themselves to? For example, if your product is highly visual like jewelry, you'll probably have more success on Instagram than on Facebook or Twitter. If your service is an online course you'll have more luck with YouTube. It's not black or white though, and you can absolutely exist on several platforms if that's what your business needs require. For example, you can have a beautiful visual presence on Instagram but also benefit from the business features LinkedIn has to offer if that's what you need. 
Market and competitor research:
Research and analysis of your market and your competitors is a common first step in creating your social media marketing strategy. Some of the most important points in that research are which platforms they're using, how it's working out for them, and how they're engaging their audience. Not that you should imitate your competitors blindly, but analysis of how someone in the same industry is using social media can greatly benefit your social media decision-making. 
Decide according to your marketing goals: 
Your marketing goals are the reason you want to exist on social media as a business. Determining your ultimate goals by using social media platforms will help you make an impactful decision. 
If you want to showcase your products visually and engage in a fun way with your audience then you might want to use Instagram, Snapchat & Pinterest. If you want to run targeted ads then you might use Facebook. However, if your goal is mainly customer service and support then you may want to use Twitter. You can consider a combination of social media platforms for business depending on your combination of objectives. 
Align your content with the platform format:
Each social media platform has its own format, language, and type of communication. Twitter is perfect for short-form content, quick interaction with the audience, trending topics, and memes. While LinkedIn is better suited for sharing business-related content, professional articles, and connecting with colleagues. Make sure you understand the norms and guidelines of communication on your desired platforms before starting your content plan.
Consider your location: 
Spend some time researching which social media platforms are popular in your country or region. For example, quick research on popular social media platforms in UAE indicates that Snapchat is much more popular than Facebook when it comes to engaging audiences, followed by Instagram in terms of the most used, and recently, Tik Tok has also emerged among the most popular social media platforms in UAE. 
So take that into consideration when determining your social media platforms and creating your content strategy and formats.
Finally, keep in mind that social media growth takes a lot of time and investment, so be realistic with your expectations and KPIs. If you feel like you need some help with social media strategy or content creation, get in touch with us for a free consultation to know how we can help you achieve your digital marketing goals.