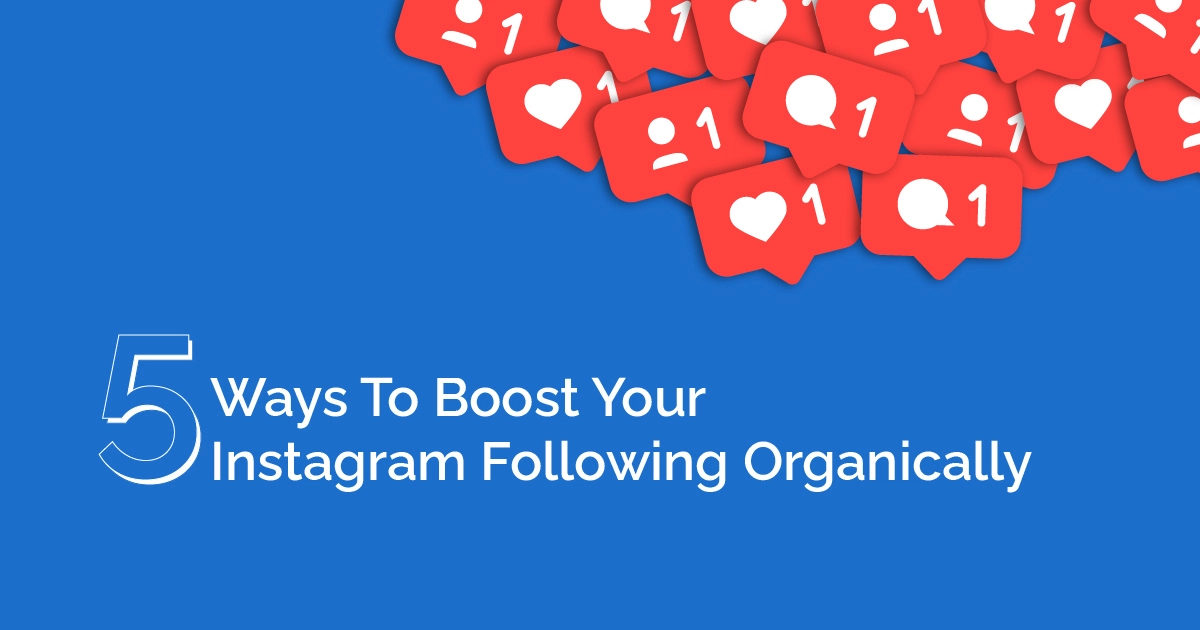 5 Ways To Boost Your Instagram Following Organically
Since the recent changes and updates to the Instagram algorithm, business owners have noticed a decrease in reach and engagement, and it's been getting harder to show up on users' feeds and get post interactions. 
That no longer has to be the case for you, we'll help you figure out the Instagram algorithm and use it to your advantage so you can increase your Instagram following and reach organically without spending too much on getting a few followers. 
Let's get started!
We've cracked the
Instagram algorithm
code and outlined the crucial factors related to getting the most out of it.
It's not a popularity competition: 
Instagram has revealed that feed ranking and appearing in the explore tab have less to do with the amount of Instagram engagement a post is getting and more to do with interest, meaning how relevant that post is to the kind of content that you're interested in. What you can take away from that is instead of worrying about how many likes your posts are getting and how much reach, you should be concentrating on: 
Tailoring your content to the type of content your target audience is most interested in. Check the accounts the people who fit your audience persona are following and interacting with, learn what kind of content in which format is most successful for them, and try to create similar content without imitating them. It also increases your chances of appearing in the most recent

Instagram update

: suggested posts. 

Focusing less on

likes

and

reach

and more on saves. People tend to save the content they find most relevant, interesting, and helpful for them. Create content that offers value and is in some way helpful to your target audience.
How recently the content is posted:
Another important factor in the Instagram algorithm is timeliness. Meaning how recent a post is has a lot to do with post order on Instagram. It will show you the posts created between the times you've opened Instagram. The takeaway from this is that you should monitor and determine when your audience is most active through the timing of their engagement with posts and stories and try to schedule your content during those times. 
Regular Interactions:
Even though suggested posts on Instagram are taking up a large portion of the feed, Instagram still wants users to see content from people they interact with most and so they still order that content prior to suggestions, meaning you need to be one of those accounts sorted first on feeds. What you can do about it is make sure you're regularly present on Instagram, posting during high engagement times, and posting regular stories and videos as that's a sure-fire way of increasing engagement and guaranteeing that the accounts that follow you will see your content.
How long users stay on Instagram:
What the algorithm shows is largely affected by how much time users spend on the app. If a user browses Instagram in short bursts, Instagram will show them the most relevant content to them first. For users who spend longer durations on Instagram, it will show them more suggestions and content a bit different from that of the accounts they follow. 
If your objective is to appear to more people, you can focus your content on carousel posts and longer reels to increase the amount of time users spend on your account and posts. That way you increase your chances of appearing in the feeds and explore pages of those who tend to stay on Instagram longer.
User-Generated Content
:
User-generated content is a way of building relationships with audience accounts, and as we discussed earlier, content that gets regular interactions or accounts with relationships to their audience is given priority in users' feeds. Make user-generated content an important aspect of your Instagram strategy, whether using contests/giveaways, offering deals to followers in return, or encouraging questions and discussions, this type of content will help you rank higher on Instagram. 
Creating a successful social media strategy isn't easy, but it's what makes or breaks your business account on social media and can be a huge asset to your business plan and operations. Need help setting up your strategy for success? Reach out to us for a free consultation to learn more about how we can help you build the right social presence.